Extra Innings is your one stop shop for all your training, practice, team, and equipment needs.
With innovative training programs and 25 locations of state-of-the-art baseball and softball facilities that rivals most indoor training centers, everything players need to succeed is at their fingertips. By combining expert instruction, cutting-edge training methodologies, professional-quality training facilities, and a fun and motivating environment featuring youth athletes from around the world, Extra Innings creates memories to last a lifetime.
---
Multi-use Tunnels
Tunnels can be rented out by the half hour and full hour to the public or used weekly by select teams and/or members. Although reservations are taken and recommended for tunnel use, walk-ins are welcome upon availability. Select Extra Innings locations offer Hit Trax™, Pro Batter® Simulators, and token operated batting cages.
Our multi-use tunnels are fully turfed and equipped with:
Adjustable pitching machine

Jugs® baseball and softball practice balls

Practice bullpen pitcher's mound

Each tunnel is separated by retractable netting in order to allow more space as it is needed.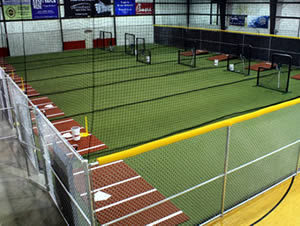 ---
Baseball & Softball Batting Cages
The indoor token operated batting cages are available on a walk-in basis during hours of operation. Our machines allow you to choose baseball or softball and adjust the pitch speed and height from any hitters' station.
Token-operated Baseball Batting Cages
Token-operated Softball Batting Cages
HitTrax™
Probatter ®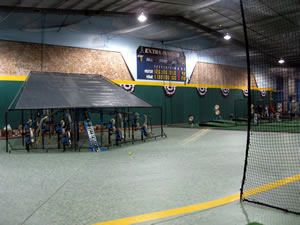 ---
Professional Instruction
Every Extra Innings location offers year-round indoor professional instruction for all ages.
Hitting
Fielding
Pitching
Catching
Throwing
Base Running
Lessons can be private one-on-one sessions or done in groups. Our staff includes former and current professional players, college all-stars, and college/high school coaches. Each instructor is trained to use a uniform step-by-step teaching system to focus on player development and encourage positive progress with each session. Now, lessons and tunnel reservations can be made online with our ESoft planner!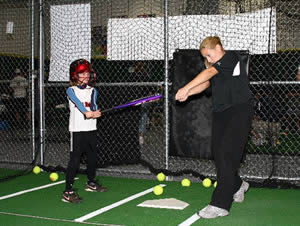 ---
MVP Membership
Practice and play like an MVP! Enjoy exclusive access and continuous discounts when you become an MVP member at Extra Innings. You will receive reduced pricing for tunnel rentals, lessons, camps/clinics & leagues, party packages, and 10% off every purchase in our nationally recognized Pro Shop! MVP members also receive full access to exclusive promotions or events each month.
*Pro-rated team memberships are also offered*
---
Clinics & Camps
All locations also offer monthly camps and clinics for all ages and abilities! Some may focus on a particular skill or position, while others may cover all the basics and fundamentals of the game. Let's answer this question right off the bat... How can we have a camp with seven year-olds and 12 year-olds? Look at it this way – An elementary school does not have first graders and fifth graders in P.E. or science class together right? They may pass each other in the hallways, take the same bus and have the same lunch period, but they are not in class together. At an Extra Innings camp or clinic, players will not be in "class" together either.
Now, with that being said, you may be thinking that not all players of the same age have equal ability. For safety reasons and because it implements the best learning environment, players will be grouped by age and ability at each Extra Innings camp or clinic. Our main objective is to enhance player development and by combining fun, competition, training, and camaraderie, Extra Innings creates the perfect balance for one great experience!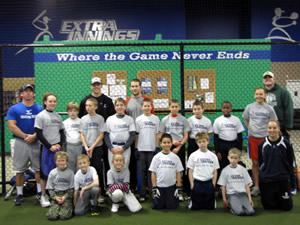 Aside from our monthly camps and clinics, our seasonal leagues such as GoldenStick Wiffle, Fall Ball, and Indoor Hitting Leagues are some of the best to join during the off season to ensure progress and maintain your skills to be ready for your upcoming tryouts!
---
Birthday Parties
Celebrate your next birthday at Extra Innings! Our facilities offer multiple packages you can choose from which include batting tunnels or wiffle ball, invitations, an attendant to wait on your party, pizza, soda and a whole lot of fun! You will have your own private tables in a spacious party room with all the paper goods and clean up duties provided by us. We also can host any type of team party!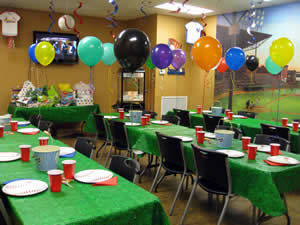 ---
Strength & Conditioning
Want even more training?
Take the next step with our strength and conditioning programs. Extra Innings strength and conditioning coaches have two primary goals:
Improve athletic performance, which means improving an athletes' speed, strength, and power.

They will develop systematic training programs for both teams and individual athletes, often working in close association with team coaches. This typically includes teaching proper weight-lifting techniques, supervising and motivating athletes as they work out, and assessing their performance before and after the program.
Reduce the number of athletic injuries.

Our coaches will often design proper regimens to strengthen body parts that are prone to injury in baseball or softball. Select locations offer full access to their fitness areas when you sign up as an MVP member.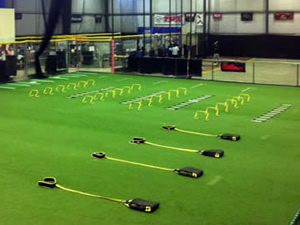 ---
HitTrax™ & Probatter ®
Players can now hit beyond the cage indoors by allowing them to view their hits live as if you are playing in your favorite stadium! HitTrax™ accurately measures the speed and trajectory of the ball while calculating the realistic outcome while also measuring key performance metrics and generates reports based on a wide variety of criteria. These interactive reports can be immediately analyzed, printed, and emailed to players to keep them engaged and striving to get to the next level. With advanced tools such as the Baseline Assessment Report, players can also be quickly evaluated to illustrate progress and determine areas for improvement.
The ProBatter ® allows you to practice how you play! Operated by a touch screen controller and containing a video front of an actual pitcher, it delivers Major League quality pitches thrown to multiple positions both within and outside the strike zone at speeds up to 100 MPH. It throws virtually any pitch that a pitcher can throw, including rising fastballs, sinkers, cutters, split finger fastballs, curves, sliders and changeups which permit a hitter to simulate game-like conditions in a batting cage. The ProBatter® simulator can be manually operated or programmed to deliver a specific pre-selected sequence of pitches.
Back to Our Story